Links
Links are internal links that go from one page to a different page on the same domain. They are commonly used in main navigation.
Links on the website include: Downloads, Quick Links and Footer links.
Screenshot depicting various links on the website, is shown below.
Steps to update Links on the website
1) Select Links Screen
Once you have Logged in, You will be able to see the Dashboard.
Click on the highlighted arrow pointer, to go to Links screen.
2) Options in Links
Once you click on the Links screen, you will see the screen shown below.
Select displays links which have been added to the website, by Choosing desired link (Quick Link, Download and Footer Link) from the drop down menu.
E.g If we select quick links, we will get all the quick links posted on the website.

If you want to add a new Link, Click On Add new List button.

3) Details for adding a new Link
After having clicked on Add new link button, it's the time to know about the details that needs to filled in Add new link screen:
Based on your preference, choose the link type from the drop down menu.
Provide a name for the link
Link is used to redirect the user to a different page, website or file. Link can be selected using any of the following ways:
Click on

choose file

and you can upload a file from your device.

OR
Click on

Get local Link

to see a window popping up on the screen; choose from the

Select page

drop down menu where you want to redirect the Page, once the user clicks on the Particular link. Click on

Insert Link

.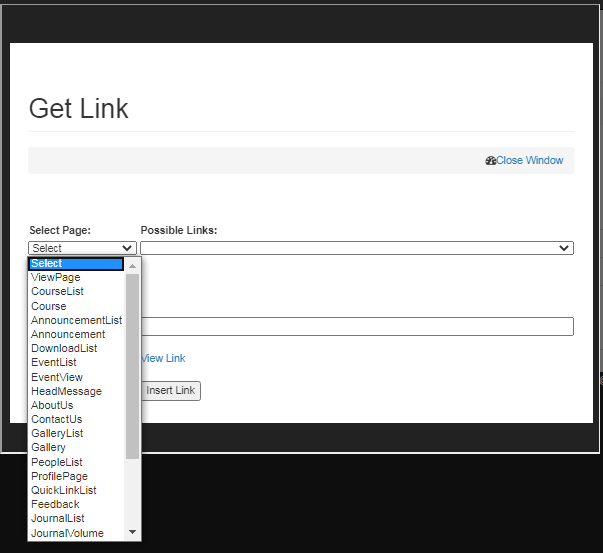 OR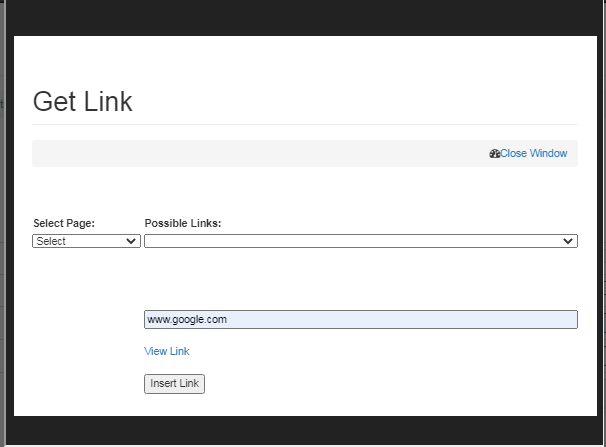 Display order is the sequence of respective Link types (Announcement, Notification and Tender), deciding order of the Link type on the website with respect to each link type.
Is Active allows user to select whether the Link, is to be made Visible or not on the website.
.

After you are done with providing all the details, it's time to Save the details by clicking on Save button.
To go back, click on Back button.
Editing/Deleting a Link
From the select drop down menu, choose the Link (Quick Link, Download and Footer Link) that you want to edit.
To Edit a Link
Click on

Edit

button as shown below,

Make changes and click on

Update

button.
To Delete a Link, click on

Delete

button as shown below.
Created with the Personal Edition of HelpNDoc: Free Qt Help documentation generator